I just had the opportunity to spend two weeks in Asia visiting Tokyo, Hong Kong, and Singapore. I'm a cultural traveler as in I'm more interested in the people, food, and local activities versus site seeing and discovering each city's Times Square (understanding there are some sites you HAVE to see). As a stylist and someone who works in fashion, it's natural of me to dissect the style of every city I visit. Hong Kong and Singapore were more westernized and housed a lot more expats than Tokyo, so while their street style didn't exude the same uniqueness, it still had a few similar characteristics.
Below are three ways I would categorize the fashion of the Asian cities I explored:
Minimalist, yet Cool
Asian fashion appreciates clean lines, textures, and quality fabrications. I noticed that a lot of people dressed very simple, but the silhouettes of their outfits were balanced in a very cool way- think over sized trench layered over a t-shirt and culottes, a monochromatic look layered in a comfortable but chic way, or a slip dress layered over a long sleeve t-shirt and paired with sneakers (see more here about styling slip dresses). They master the basics of dressing, but adjust simple staple items to fit their personality and make them their own.
Feminine and Conservative
The style was very conservative in Asia which somewhat ties into the first observation. There was actually one American girl I saw who was wearing a tube top and cut off jean shorts that stood out like a sore thumb. Even in the heat, they dress very neat, put together, and feminine. They appreciate the bows, embellishments, lace, etc. that adds girliness and flirtation to clothes. The brand that I think really resonates with this category of style in Asia is Miu Miu- sophisticated and ultra fem. Think of something you'd wear to a fancy country club brunch and that's how a good amount of Asian women like to dress everyday.
Graphic and Bold
On the opposite side of the spectrum, we have the Harajuku crowd. Harajuku is known internationally as a center of Japanese youth culture and fashion. This style includes just about everything from mixing bold colors, layering graphic prints, platform shoes, neon hair, knee high socks, ripped fishnets, and more! Now depending on where you go, you won't see too much of this, but it is significant enough to be associated with Asian fashion and something that is unique to the Japanese culture. It is mostly adopted by the tweens and teens so perhaps it's a phase before they progress into the other two categories above? Or they just rock it all life long?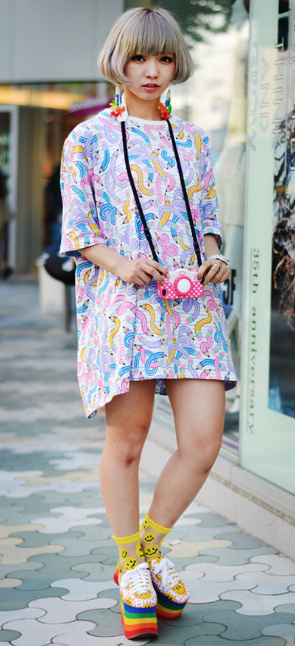 Observations of the culture around you can be great inspiration for your own personal style. I encourage you to learn how to adopt things that you see and love for yourself. There is always room to try something new! Never be afraid to be surprised. Who knows, you might find blue hair looks great on you ;)