Sometimes it's hard to digest the copious amount of style inspo we are exposed to today and apply it to our own wardrobes. Here are some of my favorite pieces for fall and different ways you can mix them up. Enjoy!
WOMEN
This monochromatic look paired with the snakeskin booties is genius. It's comfortable and chic all while adding the perfect amount of a big fall trend to enhance a basic look. Statement shoes, whether they are booties or flats, are a great way to upgrade a simple outfit. Animal print too much for you? Opt for a metallic or another color other than nude or black. Check out how different varieties of booties below help improve the aesthetic of the overall outfit.
This is one of the most versatile and comfortable pieces you can have for fall. It's a great alternative to a light trench coat or jacket and can be layered over basically anything from a t-shirt and jean look to a dress and otk boots. Make sure to choose one with a length that is best for your proportions and don't be afraid to invest in a quality knit that you'll be excited to wear. Sweaters are a wardrobe item you should invest in and a classic staple you can wear year after year without it going out of style.
So many people dismiss the idea of wearing skirts once the weather gets cooler, however, skirts are one of my favorite fall pieces. Create a flirty and cozy look by pairing it with a chunky sweater or layering it under a great topcoat and turtleneck. You can always warm up the outfit by adding tights and tall boots. My fleece lined tights are actually the warmest bottoms I own. Shop similar ones here.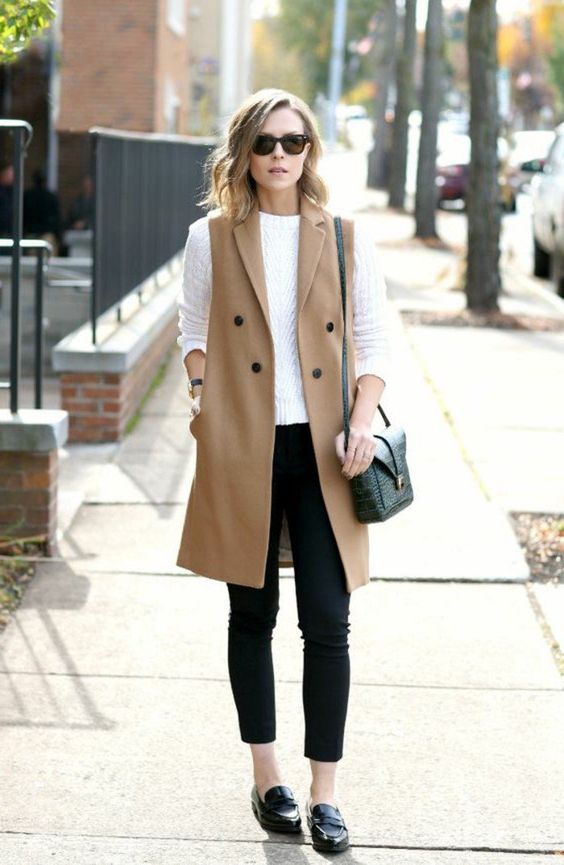 I tell all of my professional clients that want to upgrade their workwear to give vests a try. They are a great alternative to blazers and easy to layer over just about everything from work dresses to blouses and pants. Vests are versatile enough to dress up or down and are a chic addition to simple looks.
I've talked about leather jackets being a must-have wardrobe item before and they are still on the list! Look at how many ways you can wear it. Throw it over a maxi dress to make it seasonally appropriate, wear it with a pencil skirt to work, or simply add it to an easy camisole and jean combo. A quality suede or leather jacket (I always lean toward the moto styles) adds an effortless dose of cool to any look and the perfect amount of edge to a feminine fall outfit.
A quality sports coat is essential for a man and I'm not talking about the blazer that's part of your suit. A sports coat adds instant polish to a casual look, is great for layering, and exudes sophistication. Opt for two that you can wear with darker colors and more earthy tones for fall.
Love a man in boots! Give the loafers and sneakers a rest and try a cool pair of boots to create a fresh fall look. The chelsea style (shown) is probably the most popular among men and sleek enough to wear with casual looks, such as jeans and a sweater, or dress up with slacks and, ahem, a sports coat. Need more direction? Check out this article.
Fall is a great time for men to implement accessories. It's also a good way to incorporate color into your wardrobe. There are more options such as scarves, hats, and gloves that you can play with. Also, if you carry a bag to work, invest in a quality one that enhances your look versus looking like you're still wearing your college backpack. Don't shy away from jewelry. It can add a stylish touch and show you put effort into your appearance.
pictured: @laurenconrad, @maryorton, @kattanita, @happilygrey, @lisadnyc, @emilyluciano, @oliviapalermo